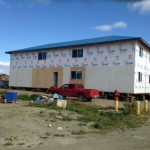 Work continues on the triplex apartment unit.  Get your work teams together and help KICY make it happen.
We could also use your financial assistance.  We are close to reaching our goal…but need another $15,000 to complete the project.
NEXT: We have installed the electrical….the plumbing…and now the heating plant is being installed.  We are looking for a team to install the interior insulation and the drywall.
To see the photo gallery, click on the Volunteer Scrapbook link on the right.
For a direct link to the McPherson Team blog, click here