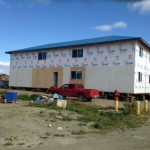 Work continues on the triplex apartment unit.  Get your work teams together and help KICY make it happen.
We could also use your financial assistance.  We are close to reaching our goal…but need another $15,000 to complete the project.
1.  Joe Anderson – Tucson.  December 7th to the 14th to finish plumbing and heating work.
To see the photo gallery, click on the Volunteer Scrapbook link on the right.
For a direct link to the McPherson Team blog, click here
Effective September 1, 2014 work teams will be limited in size to six members.