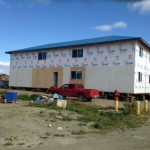 Work continues on the triplex apartment unit.  Get your work teams together and help KICY make it happen. We could also use your financial assistance.  We are close to reaching our goal…but need another $15,000 to complete the project.
May 24 to June 6 – Tucson Team – (Nine Team Members) Sheet rock installation and taping. Finish exterior siding and trim.
June 18 to Sometime in late July or Early August – Gary and Cathy Owens (Two Team Members)  Interior trim.
June 20 to June 27 – Kathy Wenell-Nesbit and Stuart Nesbit – (Two Team Members) Painting, install electrical boxes, switches and fans.
July 11 to 19 - The Weidlers are on vacation.
July 19 to July 26 – The Tuggy Team from Missouri and beyond (Seven Team Members)
To see the photo gallery, click on the Volunteer Scrapbook link on the right. For a direct link to the McPherson Team blog, click here
Leave a Comment