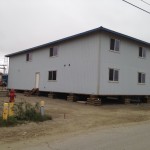 Work continues on the triplex apartment unit.  Get your work teams together and help KICY make it happen.
July 19 to July 26 – The Tuggy Team from Missouri and beyond (Seven Team Members) to finish drywall installation.
July 27 to 28 – The Weidlers out for annual physicals.
August 4 to August 11 – Wade and Seth Remer to paint the interior.
August 11 to August 18 - Roger and Cherie DeYoung and Don Ramberg from Harris, Minnesota hanging cabinets and final detail work.
Leave a Comment