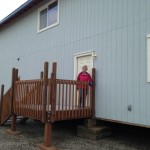 Work continues on the triplex apartment unit.
The deck, stairs and all exterior work have been finished.
Next will be installation of the floors, followed by the kitchen and bath cabinetry.  The doors will go in next, followed by the lighting and plumbing fixtures.  The appliances and furniture arrived on the last barge.  Please keep the completion of this project in prayer.   

Leave a Comment