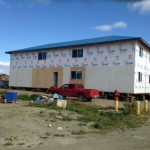 Work continues on the tri-plex apartment unit.  Get your work teams together and help KICY make it happen.
We could also use your financial assistance.  We are close to reaching our goal…but need another $35,000 to complete the project.
1.  Community Covenant Church, Kearney, Missouri – Michael Coglan and Ron Reckrodt.  September 22nd through September 27th.  Plus, John Tissell. This will be an insulation and framing team.
2. Timo & Fred Tuggy Electrical Team – November 3rd through the 7th. 
To see the photo gallery, click on the Volunteer Scrapbook link on the right.
For a direct link to the McPherson Team blog, click here
Effective September 1, 2014 work teams will be limited in size to six members.
Leave a Comment