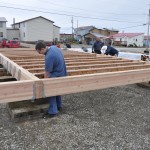 We have begun building a tri-plex apartment unit. Get your work teams together and help KICY make it happen.  The first two of three barges have arrived.
We could also use your financial assistance.  We are close to reaching our goal…but need another $35,000 to complete the project.
1. Kalamazoo Covenant Church, Kalamazoo, Michigan – July 12th through the 19th.
2. Countryside Covenant Church, McPherson, Kansas – July 20th through the 27th.
3. Minnesota Team - August 2nd through the 11th.
4. Community Covenant Church, Eagle River – August 9th through August 16th.
5.  Community Covenant Church, Kearney, Missouri – Michael Coglan and Ron Reckrodt.  September 22nd through September 27th.
Effective September 1, 2014 work teams will be limited in size to six members.
Leave a Comment