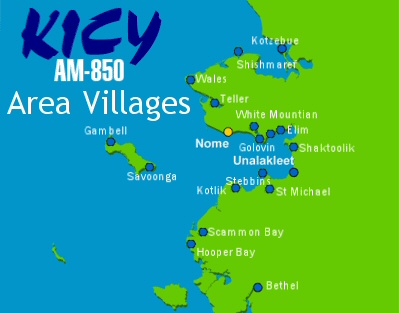 KICY serves over 40 villages that dot the landscape of "Bush Alaska". There are no roads connecting the villages to other villages or to the outside world. Most of the residents are Alaskan Natives practicing a subsistence lifestyle, which means they hunt, fish, and gather most of their food in the traditional ways of their ancestors.
Travel from village to village is done by walking, by four-wheeler, by boat in summer, snow-machine (snowmobile) in winter, or by flying which can be done year round. All travel is impacted by harsh, arctic weather. At times you sit for days. You "can't get there from here."
KICY's Ptarmigan Telegraph serves to help connect people over this landscape by allowing them to send personal messages to one another over the air. This is especially true in the summer when people are out of the villages at their fish camps, or prospecting camps, when the only appliance they have may be a battery or solar operated radio, because there is no electricity.
CareForce is another program which serves to build community. At 9:02 every weekday morning, people can tune-in to KICY and listen to an encouraging devotional from a pastor who will then take the time to read and pray over the prayer requests that have been phoned into the station by our listeners from villages all over the listening area. This is by far our most popular program.